10th June 2021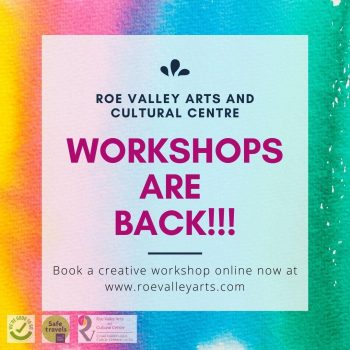 WORKSHOPS ARE BACK!!
Woohoo! Workshops are back at Roe Valley Arts Centre and we have a range of fun arts and crafts activities for you to try including needle felting with Woolly Wild Folk , jewellery design with Diane Lyness, summer door wreath making with Elaine Taylor and mindful mono-print for kids with Ananns Arch! Our class sizes are smaller and we guidelines in place to keep you safe, plus we are "Good to Go" certified!
We have some great outdoor workshops happening around the borough too as part of our ArtBeat initiative focused on promoting well being through creativity including meditative beach walks with Tree and Tide at Downhill Beach and the Whiterocks!
We'll have lots more workshops coming up over the next few weeks so keep your eye's peeled for new additions. In the meantime you can check out and book all of our workshops online here.
Plus if you are taking a trip to the coast be sure to check out the workshops at our fab sister centre, Flowerfield Arts Centre too!
---
Share This Story