12th February 2019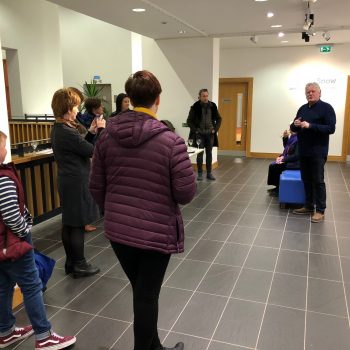 'snow' featuring photographs by James Hughes and poems by John Brown is now open in our 1st floor galleries. 
We are delighted to present this unique joint exhibition combining the atmospheric monochrome photographs of James Hughes with accompanying poems by John Brown. On first study, it is easy to read that both are a celebration of wintertime, but further contemplation of the distinctive photographs and unsettlingly beautiful poems take you down a slightly different path… a stunning concoction of love, loss, loneliness and what it means to be human. 
Currently based in Belfast, poet and curator John Brown was born in Co Derry. He studied English literature at Bristol University and Scottish literature at Edinburgh University, and has many literary magazines and publications as well as publishing numerous collections of his work.
Primarily based in County Antrim, James Hughes is a Northern Irish photographer and artist, whose photographic practice ranges from social documentary through commercial to fine art photography.
His first photographic experience was of a childhood spent using a box brownie (made by his mother when she worked for Kodak). James is self-taught, and influenced by late 20th century photography and literature, influences that he continues to link through his practice to-date.
James has an extensive background of research in photography (MA, MPhil). A celebrated photographer, with many exhibitions and awards, his work is represented internationally in museums and galleries, commercial work also has its place while he continues to pursue his personal career and passion through photography, art and poetry. For further information, visit www.jameshughesfoto.com
The exhibition continues until 30 March. 
---
SNOW READING & MUSIC EVENT:
Everyone is welcome to join James and John, Kyron Burke (pianist/singer), Aidan Mulholland (fiddler/guitarist), Hazilit Keers (guitarist) and Bill McCance (trumpet) for a unique musical and spoken word response to the exhibition in our O'Hampsey Studio on Friday 8 March at 7.30pm.
Free admission. All welcome
---
Share This Story