9th July 2018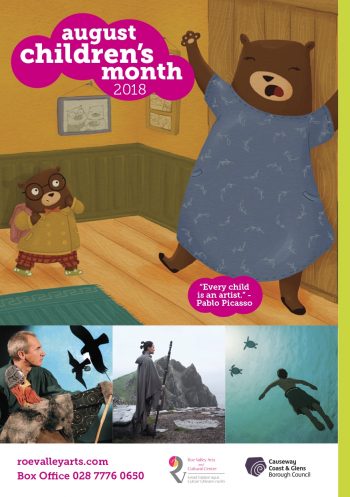 Roll up! August Children's Month is back! 
This year's August Children's Month has some fantastic theatre, Family Film Fridays, workshops and more! 
The award-winning Clydebuilt Theatre return with the superb Myths of the Vikings on Wednesday 1 August at 12noon. Suitable for children aged 6+ years, Clydebuilt take the audience back in time to the age of the Vikings, encountering magical beats, fierce Gods and warrior Kings!
Big Telly Theatre also present their unique and jam-packed with fun Teddy Bear's Hospital on Saturday 4 August. Children (and the young at heart) are inviteds to take their special bear friends along to the special St Bear-nard's Hospital for some tender loving care, where they will be assessed by the bear-iatrics team of professional doctors and even whisked away in the am-bear-lance if urgent treatment is needed. This is a theatrical spectacle not to be missed! 
Also on 4 August, everyone is invited to join artist Eleanor Wheeler from 1-4pm and create your own unique animal or creature, real or imagined, for display alongside Eleanor's own work in her exhibition As the Crow Flies which runs until 31 August. 
Family Film Fridays return with blockbuster Star Wars: Episode VIII The last Jedi on 3 August, the spectacular internationally acclaimed Studio Ghibli animation The Red Turtle on 17 August and Academy-award nominated Irish animation Song of the Sea on 24 August. 
Northern Ireland's first appointed Children's Writing Fellow, Myra Zeph also reads from her award-winning book Don't Go to School! on Saturday 11 August and also provides an interactive workshop with music, games and dress-up for kids aged 4-6 years. 
All this, plus workshops including Shadow Puppetry for 8-14 year olds from Tuesday 21 to Thursday 23 August, 11am-1.30pm daily, Get Messy for Summertime art workshops for 5-8 years all week from 6-10 August, 11am-1pm daily and the unique I'll Eat Some Breakfast then I'll Change the World week-long drama programme for 9-13 year olds from 13-17 August, 11am-2pm daily. 
DOWNLOAD the August Children's Month full programme below. 
---
Share This Story