15th September 2021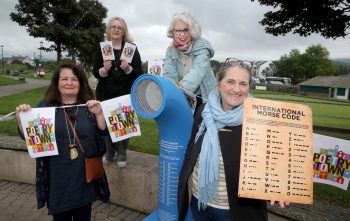 Poetry Jukebox is GO in Poetry Town Ballycastle!
The Poetry Jukebox is now installed at Ballycastle Seafront! Located at the fountain just opposite the Marine Hotel, the Jukebox features the audio poems of two 'local heroes' poets from Northern Ireland, Heather Newcombe and Mairtin Crawford.
Heather lived in Ballycastle and was instrumental in nurturing literature activities in the town and area, including the Ballycastle Writers Group and the annual 'let Me Take You to the Island' literature festival on Rathlin Island.
Both sadly passed away, Heather and Mairtin's poems are read by family members and friends.
Like any jukebox, you press the button at the top to select whichever poem you want to listen to and then sit, relax and listen to some beautiful crafted words float out and over the Sea of Moyle. We think the Children of Lir would be most impressed!
For covid safety, you can use a proxy such as a pen or key to press the button. Posters are also distributed throughout the town featuring the list of poems alongside their individual QR codes so you can scan and listen to them from the comfort of your own home, too!
Launched to coincide with Poetry Town in Ballycastle from 10-18 September, the Jukebox will continue to reside at the Seafront until 30 November.
Our sincere thanks to Maria McManus and Quotidian.
---
Share This Story