6th September 2018
Keep the kids busy and inspired this Autumn at Roe Valley Arts & Cultural Centre. We have a brilliant feast of creative workshops available from September to December.
Specifically created for young children aged 3-6 years, Dramabugs combines drama, spoken word and movement to improve confidence and skills and runs for 6 weeks from Friday 21 September from 4.30-5.15pm.
If your child is interested in drama, sign them up for The Limelight Factory which runs from Tuesday 2 October to 13 November from 5-6.30pm. Designed for ages 9-12 years, this brilliant course by Sorcha Shanahan combines storytelling and drama.
Children can also enjoy after-schools Halloween Shadow Stories with Joan Alexander from Tuesday 23 to Thursday 25 October from 4.30-6pm, creating their own spooky small scale stories using portable shadow theatres. In time for Halloween, kids can make their own props and goodie bags in the Scary Art Clubs on Saturday 27 October from 2-4pm.
Winter Wonderland arts and crafts course for children aged 5-7 years runs from Saturday 17 November to 8 December from 2-3.30pm alongside the Artspark course for ages 8-12 years from 2-4pm.
Festive workshops in making an elf and hedgehog prince puppets run on Saturday 15 and 22 December from 11am-12.30 and 11am-1pm.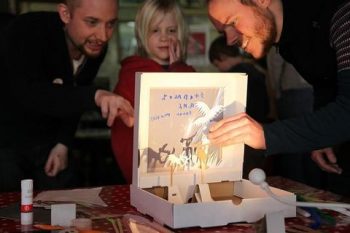 ---
Share This Story