26th May 2020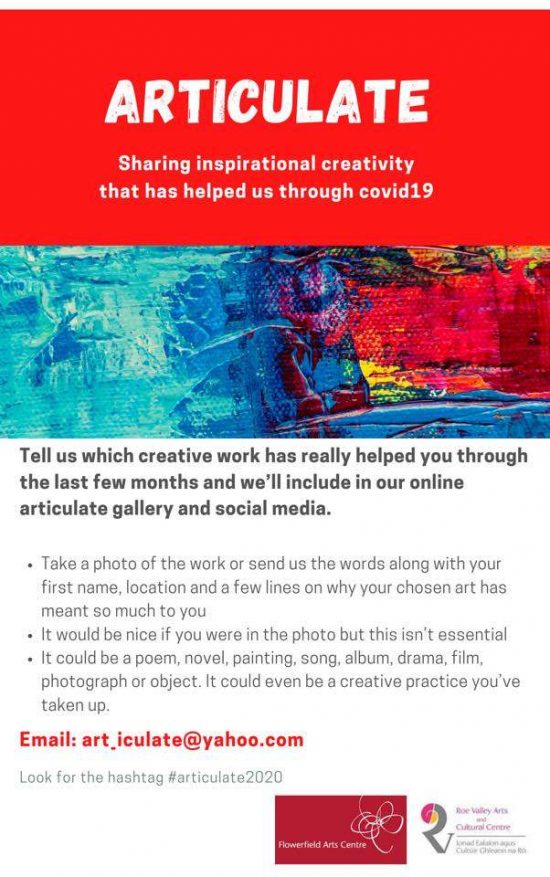 We've launched a new online project to encourage all of you to share how art and creative work has helped you through these recent difficult months.
The 'Articulate' initiative aims to bring together those who have turned to some form of creative art for solace, comfort, enjoyment or distraction from the anxiety many of us have experienced during the pandemic.
Encouraging people to share their experiences, the Mayor of Causeway Coast and Glens Borough Council Councillor Sean Bateson said: "The well-being benefits associated with participating in a creative activity are well proven, and as our lives changed over the past few months and our social opportunities reduced, many of us will have turned to books, film, music and other outlets. We are now calling on people to take part in 'Articulate' and help us to highlight how different strands of the arts sector have helped to collectively get us all through these challenging and difficult times and make a positive difference to our lives."
To get you thinking, have you been reading a favourite poem or book that has been of comfort? Have you re-watched a favourite film that has given you some escapism or listened to a particular song or album which has given you joy? Have you treasured an artwork, old family photograph or object of special significance? Maybe you've taken up painting, creative writing or knitting?
You and your chosen creative work will be featured in the online project gallery and across social media. Everyone can take part and it's a great way to share inspirational art and connect and learn with each other.
All you have to do to participate is email us at art_iculate@yahoo.com with your first name, location, any appropriate photographs or content along with a few lines on why your chosen piece has been of such importance to you.
You can track all the submitted work by following the hashtag #articulate2020 on Facebook, Twitter and Instagram.
---
Share This Story