New Exhibition, Under the Same Sun, launches via Facebook Live Friday 16th July at 11:30am!
14th July 2021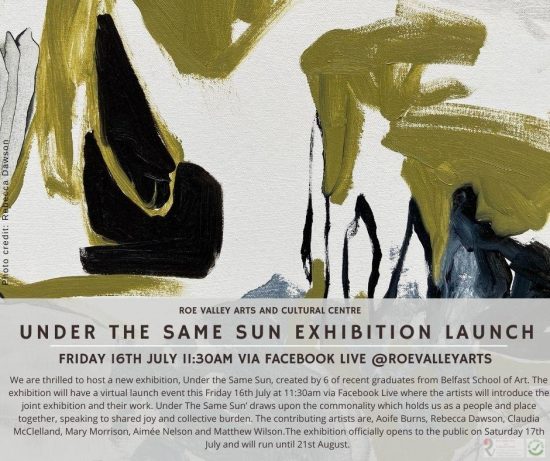 New Exhibition, Under the Same Sun, launches via Facebook Live Friday 16th July at 11:30am!
We are thrilled to host a new exhibition, Under the Same Sun, created by 6 of recent graduates from Belfast School of Art. The exhibition will have a virtual launch event this Friday 16th July at 11:30am via Facebook Live where the artists will introduce the joint exhibition and their work.
Under The Same Sun' draws upon the commonality which holds us as a people and place together, speaking to shared joy and collective burden. Although varied in their individual concerns, the six exhibiting artists are all recent graduates of the Belfast School of Art. Dichotomies of natural and artificial, contemporary and traditional, and representation and abstraction are all investigated through a wide range of media and processes.
The contributing artists are:
Aoife Burns: Burns' paintings explore the concept of boundaries and divided space, of place and identity.
Rebecca Dawson: Dawson's practice explores how we interact and use landscapes, and spaces that we inhabit - particularly with environments that are assumed to be 'natural', but rather are constructed.
Claudia Rose McClelland: Claudia is a multi-disciplinary artist utilising pseudo materiality to contrive a physicality of aberrant beings that lures a psychological disobedience from the spectator's sentient reality.
Mary Rebecca: Morrison is a textile artist living and working in Belfast. With a focus on portraiture work, influenced by her family's consistent documentation of their lives.
Aimée Nelson: Aimee is a visual artist based in Belfast. Her work examines physical reality, our consciousness and the fragility of perception.
Matthew Wilson: Matthews work intimately surveying the terrain of memory; navigating what to say and what to leave unsaid. His work maps place, landscape and material.
The exhibition officially opens to the public on Saturday 17th July and will run until 21st August. You can visit the exhibition during our opening times:
Monday and Tuesday : CLOSED
Wednesday: 10am - 4pm and 7pm - 9pm

Thursday: 10am - 4pm and 7pm - 9pm
Friday: 10am - 3pm
Saturday: 10am - 1pm
Find out more about Under the Same Sun at: https://www.roevalleyarts.com/...
---
Share This Story