9th September 2019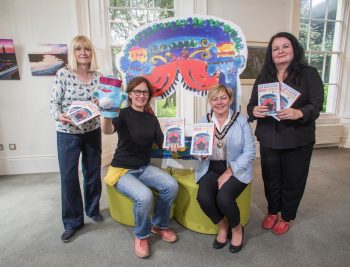 New Event Guide for New Season at Roe Valley!!
Roe Valley Arts Centre have a great Autumn/Winter line up for the borough featuring some great music, arts, theatre and comedy, taking us through September to December.
Derry Girls star, comedian extraordinaire and the worlds must humble guru, Kevin McAleer heads to Roe Valley on Friday 20 September for more of his mindfulness ponderings which will leave your head spinning and your cheeks hurting!
The Twilight Music Sessions at Roe Valley offer a series of atmospheric gigs from the best of local and international jazz, bluegrass, folk and Americana and a few other things in between. To kick off these intimate evenings we have Eilidh Patterson on Saturday the 5th October, Los Dramaticos bring us a Latin Evening full of flamenco guitar, percussion, stories and tapas on Saturday 19th October. The Canadian band, Slocan Ramblers grace the stage on Thursday 24th October with their amazing take on bluegrass and acoustic delivery, then to round off the Twilight Sessions we have Pilgrim Street on the Saturday 9th November with their old time country and folk, with a twist.
For our younger audiences we welcome Echo Echo Dance Theatre Company to Limavady with their show The Box about the adventures of a box and the imagination you can have with it, on Saturday 12th October from 1.30pm. We also have a host of Halloween activities from the Rocky Horror Picture Show on Tuesday 29th October, Spooky Stories with Liz Weir on Wednesday 30th October and the Dry Arch Halloween Spooktacluar on Thursday 31st
We have some great art exhibitions on as well over the winter months as Rong Gen Yins A Brush with Nature continues until September the 28th and curator Valeria Ceregini opens her environmentally inspired show Over Nature on Saturday 7th September. This show runs until the 28th of the month and features a wide selection of international artists, multimedia works, paintings and photography. Anushiya Sundaralingam new show Marankal opens on Saturday 19th October, inspired by identity, belonging and place through a mix of 2 and 3d artworks, prints and sculpture.
Our Christmas programme this year is a fantastic mix of music and drama – much like everyone's house at Christmas, only with more pizazz and sparkle! Foundered in Fairy Land opens on Thursday 28th November brought to you by Limavady Drama Club and their self-written panto which parodies most of the classic fairy tales we know and love.
Family Film Fun happens on Saturday 7th Dec with the Grinch that Stole Christmas and for the more mature folks we have It's a Wonderful Life on Saturday 21st December. A Christmas Country Cracker will have you jiving in the aisle's on Friday 20th December with the Limavady Christmas Lights Switch On happening on Saturday 23rd November. Perfect for a night out after the family Christmas rounds, we have the fabulous Abbamania on Friday 27th December and celebrate the New Year with The Fureys on Monday 30th December.
Pretty much a fun packed, entertaining and cultural programme with something for all. Check out the full programme at our website and tickets for events are available by calling the team on 028 77 760650 or via Eventbrite or visit roevalleyarts.com
---
Share This Story