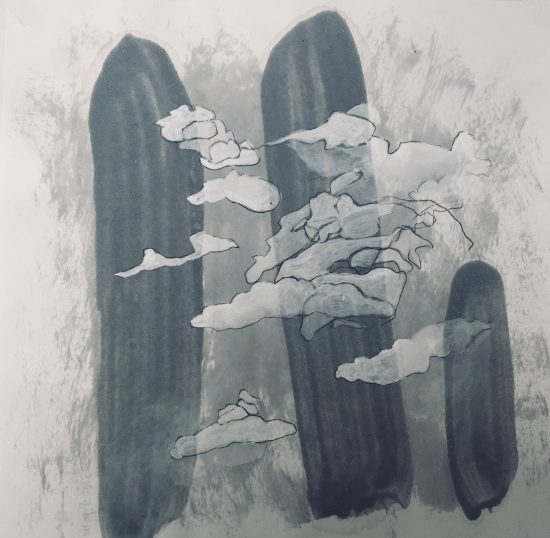 Overland and Borders
Diane Henshaw
30th April - 28th May
Originally from Islandmagee in Co. Antrim, Henshaw practised in Belfast at Queen Street Studios artists collective for just under a decade before moving to Tempo in Fermanagh where she has been based for 19 years. Over the past three decades, Henshaw has exhibited throughout the world in locations in Europe, North America, Asia and Indonesia. She has held numerous international artist residencies in Antwerp, New York, Kerala, New Dehli and Orissa, South India, and has been artist-in-residence in Ireland at the Tyrone Guthrie Centre at Annaghmakerrig, Monaghan, Ballinglen Arts Foundation, Mayo, and The Model in Sligo. Most recently, she has been curating online studio visits (65) and an 11 strand international touring expo for the Drawing Box during lockdown for whom she is the voluntary curator and a founding member. Diane also has recently exhibited virtually with the Sasse Museum in California in a group show curated by Maurice Quillinan entitled Irish Art. Other recent exhibitions include Boyle arts festival invited artist for King House 2021, 44 the quay Artforum Waterford invited artist for their annual exhibition in December 21 & the Fenderesky Gallery, Belfast Changing show. Diane is currently represented by Hambly & Hambly in Enniskillen & I am of Ireland in Cork.
Henshaw is also a founding member of Outland Arts and a member of Floating World Books. Her work is in many private collections both nationally and internationally. Diane also works as the Arts Officer for Fermanagh & Omagh District Council where she has worked since 2004 – she now works part time in administration and the other half of her time is spent making art, gardening and being a mother.
A modern Irish-English dictionary translates the word dinnseanchas as topography (the science of place), but its etymology is more complex. The term originally referred to an ancient genre of mythological geography that gave a poetic account of place names. Dinn means place (an eminent site or locale); sean means old, and is associated with the figure of the seanchaí or local storyteller, the keeper of lore and memory; and cas means to twist. Poetically, the word suggests the twisting together of strands of collective memory of place perhaps forming a single narrative core, or (in a more visual idiom) a tapestry weaving together place and people, memory and experience, history and present desire. Diane is seeking in her works to express the spirit of dinnseanchas in a modern idiom, as a cognitive-imaginative mapping of the environment through forms of artistic engagement.
Diane deals with the abstract and her work is known for its paired down lines and formulated composition. Her artistic process displays the history of marks of decisions past, of the time spent, and the material layers used to build up her images. The overall impression is that the drawing process may contain anything, but its success depends upon combining its parts into a cohesive, spontaneous unity.
For the show in Limavady Diane will exhibit a series of works created during lockdown featuring a drawing a day x 30 cloud drawings as well as a small selection of large drawings also created in 2021-22.