8:30pm - 9:30pm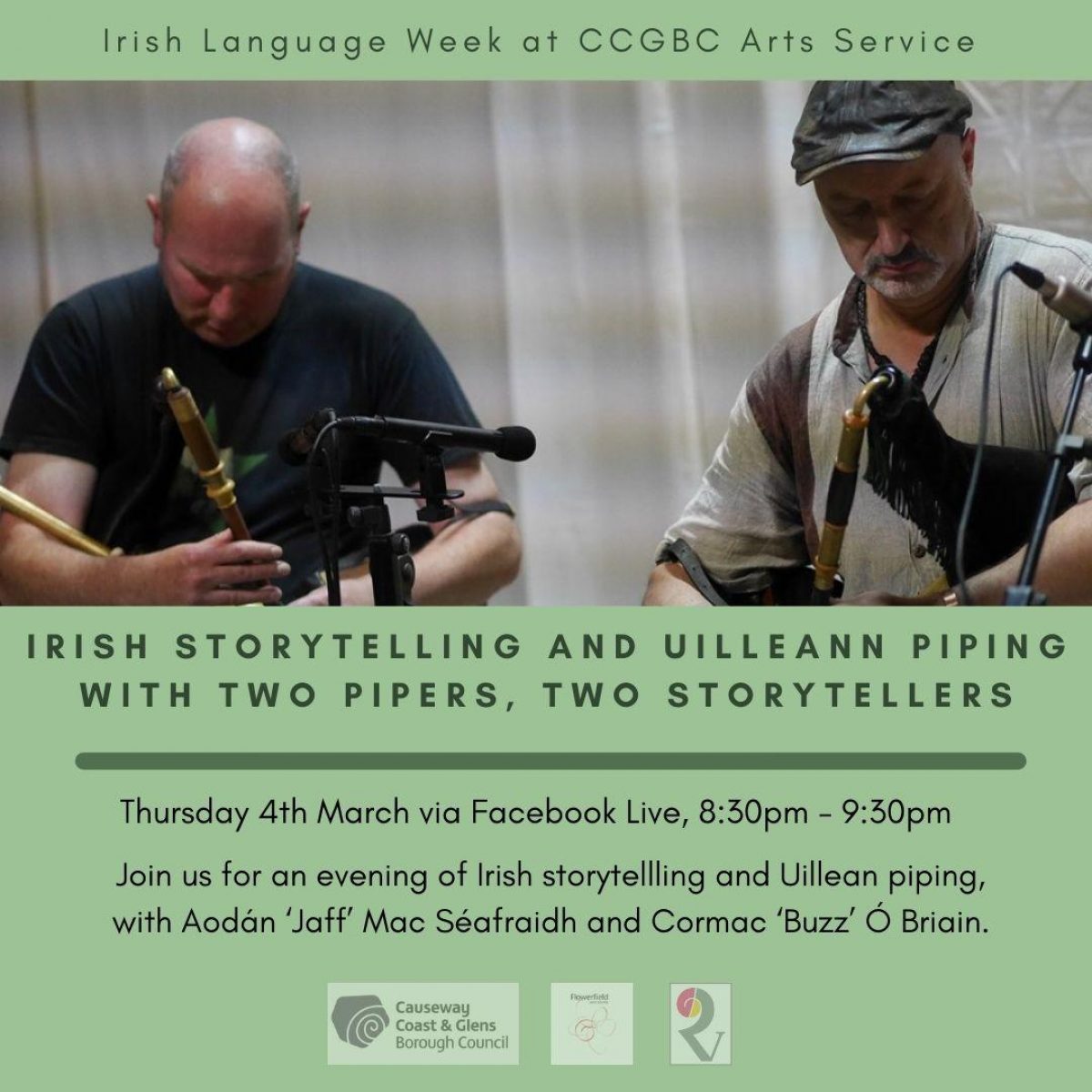 Join us for an evening of storytelling and Uilleann Piping.
Irish Storytelling and Uilleann Piping with Two Pipers, Two Storytellers
Thursday 4th March via Facebook Live
8:30pm - 9:30pm
Storytelling used to be central to community life in Ireland long ago. Two well-known pipers, Aodán 'Jaff' Mac Séafraidh and Cormac 'Buzz' Ó Briain are bringing this ancient artform to new audiences throughout the country and beyond. The two are not only skilled storytellers but also excellent exponents of uilleann piping.
The duo came together to showcase traditional storytelling and also to share their love of their favourite instrument, the uilleann pipes. Their show is a collection of stories that each have a particular tune that illustrates beautifully the depth of the stories through the pure emotion of the music. Cormac said,
'There are a few traditional storytellers left in the country and a good few pipers but as far as we are aware no-one is incorporating both uilleann pipes and traditional stories since the distant days of Séamus Ennis and pipers of old. We always learned the stories of our tunes but it was when we were often requested to perform shows that we decided that we would give some structure to the performances to produce a thrilling performance of reels, jigs and haunting slow airs with stories of fairies, tragedies, incredible happenings and old traditions.'

---
Bhí ceird na scéalaíochta lárnach i saol an phobail in Éirinn i bhfad ó shin. Tá dhá phíobaire aitheanta, Aodán 'Jaff' Mac Séafraidh agus Cormac 'Buzz' Ó Briain, ag cur i láthair na foirme ársa ealaíne seo do lucht féachana nua ar fud na tíre agus níos faide i gcéin. Chan amháin gur scéalaithe oilte iad ach is dhá phíobaire uilleann ealaíonta iad lena chois.
Tháinig an dísreach seo le chéile chun scéalaíocht thraidisiúnta a chur i láthair agus chun a ngrá don uirlis is fearr leo, an phíb uilleann, a léiriú. Tá bailiúchán scéalta acu a léiríonn doimhneacht an traidisiúin scéalaíochta ar dhóigh ghalánta trí mhothúchán íon an cheoil.
Arsa Cormac, 'Tá roinnt scéalaithe traidisiúnta fágtha sa tír agus tá níos ná cúpla píobaire ann chomh maith, ach is fada an lá ó bhí píobairí uilleann ag gabháil don traidisiún scéalaíochta a bhaineann leis an cheol. Ba é Séamus Ennis, píobaire agus scéalaí mór le rá, an duine deireanach den phór sin – go dtí anois. Ba mhinic a d'fhoghlaim muid scéalta i gcuideachta le foinn áille na bpíob. D'fhoghlaim muid seanchas na bhfonn ó am go chéile ach ba léir go raibh daoine ag iarraidh orainn níos mó de chúlra an cheoil, is é sin seanchas an cheoil. Is ansin a thosaigh muid beirt ar an scéalaíocht agus tháinig muid ar thaisce mór ábhair a bhaineann leis an cheol – scéalta fá na síoga, tragóidí, tarluithe dochreidte, go bunúsach an seantraidisiún féin.'
---
This project is receiving financial support through Council's Good Relations Programme. The purpose of the event / activity is to bring people together, using creative arts as a method of connecting people from different community and cultural backgrounds using shared spaces (whether online or in a specific location) so that we can build positive relations using the medium of the creative arts.
---
Share This Event